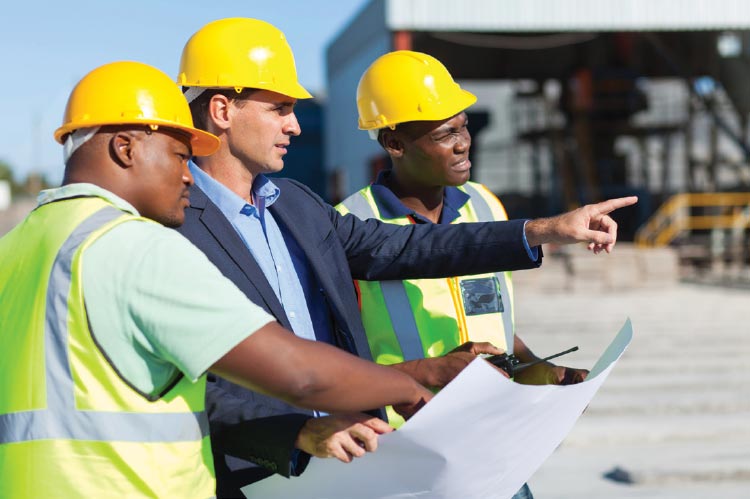 Your Project is Covered
We staff each project with teams of personnel with the experience and know-how to get the job done right. We are committed to providing an exceptional level of service to our clients, and continually train employees in the field and in the classroom to ensure our team's management and technical skills are second to none.
Technical staff members are supported by in-house specialists in partnering, estimating, purchasing, scheduling, cost engineering, risk management, safety, and community relations.
With the right team on the job, clients can be sure that technical and administrative issues on projects are quickly addressed. With a "can do" philosophy and an experienced workforce, our teams address potential challenges with solutions, not finger-pointing and delays.
Construction Past Performance
GSA | Department of Commerce
Open Space Design: installation of AV/VTC breakout rooms and huddle rooms. The project encompassed a complete Video Teleconferencing Center install within a variety of meeting and conference rooms. Sound masking systems were also installed.
GSA | Pettyman Courthouse
Transfer switch replacement elevator system recall repair.
GSA | Southern MD Courthouse
Building Automation Systems: design/build install of system to monitor usage of utilities. Sub-metering of electrical mechanical water system. Connectivity back to GSA.
Corman Construction
The Yards/Diamond Teague Park Pedestrian Connector Construction: built a pedestrian bridge on the DC Southwest Waterfront.
GSA | Food and Drug Administration
Multiple Office Reconfiguration at the FDA Building: GSA tenant build-out project; design build.
GSA | Department of Homeland Security, Customs & Border Patrol
Electrical upgrades to data center in Reagan Building: design build.
General Contracting Services
Design/Build Services
Federal Administration Building Renovations
Renovations Interior
Renovations Exterior
Historical Preservation
Environmental Remediation Services
Green Services
Sustainable Solutions and Builds
Automated Hardware for Energy Efficiency
NAICS Codes:
236220
238210
541611
541513
541519
236210
236115
FEATURED PROJECTS
Department of Navy Steam Valve Repair
DHS Critical Infrastructure Build-outs
GSA/NCR (National Capitol Region) – Construction Management & Cost Estimating Support Services
GSA/Federal Courthouse – Building Information Management/Smart Metering
Forest City Washington/Corman Marine –Pedestrian Bridge Construction
Clark Construction/DHS – St. Elizabeth Campus Build-out